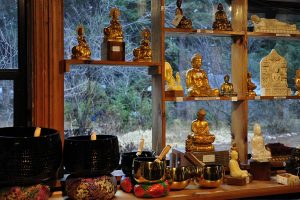 Friends of Shasta Abbey (FOSA) is a non-profit organization established by the lay Sangha to carry forward the ancient Buddhist tradition of interdependence between the monastic and lay communities. In gratitude for the monks' generosity in offering the Dharma, FOSA helps provide skills and resources to support and enhance monastic life at Shasta Abbey.
In the spirit of dana, the Friends of Shasta Abbey contributes revenue from its gift shop, Shasta Abbey Buddhist Supply Shop, to directly benefit the monastery. In this way, the monks, the Friends of Shasta Abbey and the entire lay Sangha work together to support each other's spiritual training.
Friends of Shasta Abbey Brochure

The Buddhist Supply Shop will be open  September 10, October 21 and October 29, 2017.

Friend's of Shasta Abbey Quarterly Report  –  August, 2017
The board of the Friends of Shasta Abbey gathered for our quarterly meeting on Sunday, August 6. A theme for the meeting was that wonderful teaching, "no effort is wasted." Even small acts of kindness and generosity are important. The running of the gift shop is an example. Laurie Ottens, our shop manager, regularly researches and orders new items for the shop, which is a gift to all of us. She also has the tricky job of trying to assess which items are likely to sell and will be spending more time tracking that. We are grateful to her for her ongoing effort.
The Lotus quilt fundraiser is another example of that  teaching: it is a true labor of love and patience. Though it is slow-going, no effort is wasted. Almost all the quilt squares are finished, having been hand-sewn by Anne Johnson and many other volunteers. And they are ready to be put together. More research will need to be done to determine the best way to finish the quilt before it is ready to be put up for raffle.
Our next FOSA sponsored workday will be Saturday, November 4. Mark your calendars to join the monastic community in getting the Abbey ready for the winter months ahead.
With bows,  Carol Jenkins – President
BOARD MEMBERS
Officers: Carol Jenkins – President, Anne Johnson – Vice President, Laurie Ottens – Shop Manager, Beth Gong- Treasurer, Marty Sochet – Assistant Treasurer,  Suzanne Kane – Secretary, Members-at-Large: Susan Place, Steve Larson, Kirk Yarnell,  Monastic Advisor: Rev. Master Daishin Yalon. 

CURRENT WAYS TO PARTICIPATE
Help at the Buddhist Supply Shop with sales, inventory, accounting and more by contacting Laurie Ottens.
Join a FOSA Board committee or donate your time to an ongoing project by contacting FOSA.
Make a tax deductible donation toward any current or future project by contacting FOSA
CONTACT
For further information on current FOSA activities or purpose contact FOSA Board President, Carol Jenkins. 
COMPLETED PROJECTS
Successful FOSA projects include the purchase and installation of hot water heaters for Abbey buildings; the purchase of a log splitter for the monastery; improved lighting in the monastery kitchen; expansion of the lay and monastic libraries; fundraising for the building of 12 new meditation screens for the Buddha Hall; and the beautiful new Segaki banners.